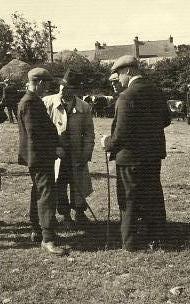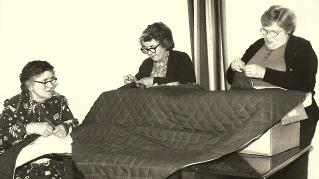 Probably west Kerry, c. 1940s. Chatting at the fair, Dingle. c. 1940s. A quilting session, Kilgarvan.1980s.
You are reading Social Life. - Archive
'We used be playing cards in Thady Sullivan's back the road there, four and five nights a week. We would play for a pair of socks
or a turkey for the Christmas. The television finished all the rambling houses, because people had something to watch on the
television.'
John Garvey (b. 1944), Foilmore, Caherciveen. Crossroads – Folklore from Kerry, p. 67.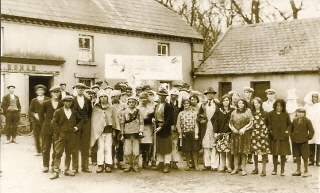 Wrenboys, Ballyduff. 1935. Stradbally Wrenboys, 1930s.

'Going out on "the wran" was probably the biggest most enjoyable event of my

childhood. Murt Long was the fellow who would

give us the bird - a small wren. His house was an old thatched one - the ruins are

still there - and after dark we'd search under the

eves of the thatch with a flash lamp and catch the wren. In the early days we would kill it and put it on the top of the holly for wren. I

In the early days we would kill it and put it on top of the holly for carrying it around, but later on we got a bit more humane and kept

the bird alive and put it into a glass jam jar. But sure he'd be bashed about so much in

the jar from his tour and banging

his head off the surfaces that he'd be dead anyway. After "the wran" we would count out our money and share it down to

the last ha'penny. Nowadays the young lads don't bother with "the wran"

because they have too much money. We did it for two

reasons; we knew we'd get all sorts of treats and money, especially if the house you were visiting was that of a relative.'

Michael Griffin (b. 1946) Keel, Castlemaine. Lifetimes – Folklore from Kerry, p. 72.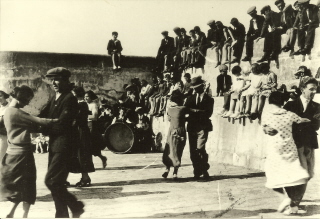 Dancing at Brandon, 1935. Crowd scene at Dingle Regetta, c. 1940s.

'We used to go dancing of a Sunday evening, a mile down the road and there was a platform on the side of the road and we'd
be dancing there until we had to go home to milk the cows. 'Twas a platform made of cement across the road especially for the
dancin'. That's where we met all the fellas. Sure we'd fight over the fellas, the fellas were fairly scarce, the girls were more
plentiful. And there'd be boys there from farms around and neighbours' children. That was Sunday evenings in the brightness, we
never were left out at night. You'd ask your mother and your mother would say, "ask your father" and 'twould go from one to the
other and you were never left out.'
Nora Kelly (b. ), Killarney. Crossroads – Folklore from Kerry, p. 46.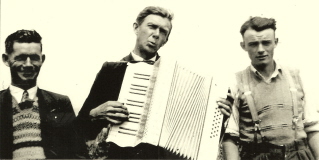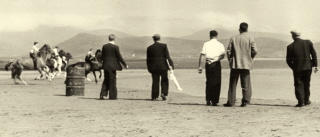 The Musician, c. 1950s. Horse racing on the strand.

John Joe Kavanagh's father owned a shop and a dance hall in the village of Boolteens, between Castlemaine and Inch.
'In those days it was all day-dancing, you would get in for tuppence, there was nothing after dark, night-time dancing came many
years later. We had to supply the music ourselves, there was no such thing as hiring bands, we had a melodeon, drums and then
different musicians came from around the parish to play a few "sets" and waltzes and that kind of stuff. Ours was the first dance
hall in the County Kerry would you believe. There used be a big crowd gathered around half-past two on a Sunday, then doors
would open at three o' clock and we'd finish at six.'
John Joe Kavanagh (b. ) Keel. Lifetimes – Folklore from Kerry, p. 56.