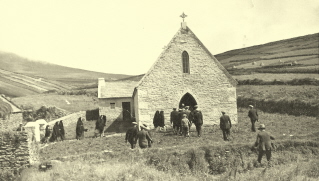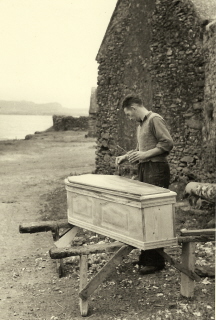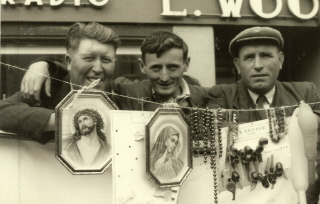 Mass goers, Dunquin, c. 1940s. Coffin-maker, west Kery, c. 1940s. Killorglin 1986.
You are reading Religion. - Archive
'Tom Trant's mother owned the local shop in a little village at Whitegate, near Castlemaine. 'We sold everything in the shop,
coffins even, and the brown habits for the person that died to be laid out in, and the "priest dress," as they would call it. Dick
Boyle in Castlemaine made the coffins and then later Danny Griffin made them. We used carry the coffins to the houses in the
horse and car.'
Tom Trant, Castlemaine. Lifetimes – Folklore from Kerry, p. 25.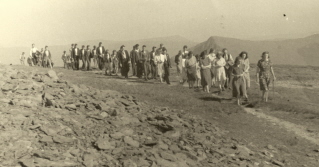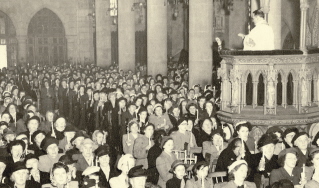 Pilgrimage on Mount Brandon. Women's Mission, Killarney Cathedral, probably 1950s.
'We had the Legion of Mary as well and I used go to the Legion of Mary meetings. It was not with the height of prayer but
to get out for the night and if you were in that you couldn't wink at a boy or you would be thrown out of it. .....'
There were also Missions run by the Redemptorists. 'Yes there was only one commandment as far as the Missionaries were
actually concerned and that was the sixth, you could steal, you could rob and you could murder, but they never dwelt on that. They
were up there on the altar and I remember going with my mother and hanging on to her and shaking in the seat with the fright of it.
They'd be roaring at us, "ye will be chained for ever to the pits of hell," and we had a person in charge of the choir and he usen't
give her time to play the hymns, you know, she never recovered her senses after. They wouldn't get people into a Mission
nowadays.'
Debbie Joy (b. c. mid 1920s), Crossroads - Folklore from Kerry, p. 13.
'The O' Doherty home was a great home of prayer. " Well I don't know if it was greater or less than any other house. Family
prayer was part of the routine those days. People said prayers before meals and said the Rosary at night. There was Sunday
Mass and you fasted from midnight if you were receiving Communion. There was a Mission in the church every five years.
Preachers were brought in and this would be a very big event in the parish for two weeks - a week for the men and a week for the
women. There was Mass in the morning and Benediction in the evening. Nearly everybody would attend and the closing night
was a big night - loads and loads of candles lit all over the altar and great enthusiasm and great singing.'
Fr Micheál O'Doherty (b. 1929), Glenbeigh. Crossroads - Folklore from Kerry, p. 81.