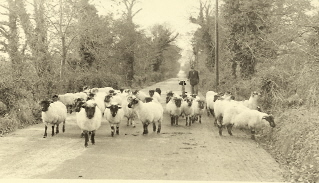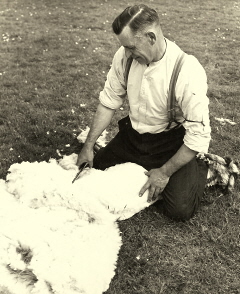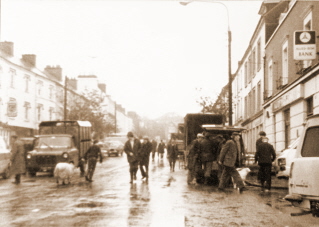 Driving sheep. Shearing sheep, late 1950s. Fair Day, Kenmare, October 1983.
You are reading Events - Home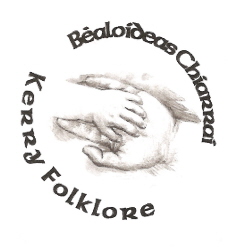 Community Folklore Recording Conference,
Muckross Traditional Farms, Killarney, Co. Kerry.
24 September 2009.
Community Folklore Recording Conference.

You are invited to attend a conference on Community Folklore Recording, which will be held on Muckross Traditional Farms, Killarney, Co. Kerry, on Thursday 24th September 2009. This conference is organised jointly by Kerry County Council, Coillte, South Kerry Development Partnership Ltd., and the Trustees of Muckross House (Killarney) Ltd., collectively known as Béaloideas Chiarraí / Kerry Folklore.

The conference will be of interest to anyone involved in the collecting of oral folklore and history. It will be of particular interest to Community Groups, Rural Social Scheme Sponsors, Fás Project Sponsors, Elected Representatives, Local History & Cultural Societies, Heritage Officers, Undergraduates and Post Graduates studying Folklore, Sociology, Linguistics and Media Studies.

The conference aims to showcase a number of national and international folklore collecting projects, provide guidelines on project design and present an opportunity to develop folklore networks.

I look forward to seeing you in Killarney.

John J. O'Connor, Chairman Béaloideas Chiarraí.

Payment should be made to the Heritage Office, Kerry County Council, Rathass, Tralee, Co. Kerry, before Friday 11th September 2009.

Places are limited to 80 delegates, so early booking is essential.

Conference Fee - €25

Concessions - €10

Corporate - €100

Programme - 24th September 2009.

Location of Conference.

Muckross Traditional Farms are located adjacent to Muckross House, c. 3.6 miles/6km from Killarney Town Centre, along the main Kenmare Road (N71).

The entrance is located opposite the Muckross Park Hotel (Molly d'Arcy's Pub and Restaurant) and will be signposted on the day. Please do not try to access the conference by way of the main entrance to Muckross House.